Possible Home Of Samuel Green
There is speculation that Rev. Samuel Green may have lived in the vicinity of Indian Creek, and perhaps on Choptank Indian Land. The following is the c.1800 plat of Choptank Indian Land with lots which were purchased by white landowners with the exception of several then remaining parcels of Indian Land. One grouping of 3 parcels of Indian Land was located nearest Indian Creek, a tributary to the Choptank River, just west of the present day Route 16. A larger parcel of Indian Land was located east of Route 16, likely along Hicksburg Road. This graphic shows the c.1800 plat of Choptank Indian Lands, with an approximation of present day Routes 16 and 14 shown, and with labels of possible landowners, based on a review of data including the 1850 U.S. Census records. (review was done by John Creighton)
What we know:
Rev. Green's son was identified in William Still's book as having left Indian Creek (The Underground Railroad, William Still, 1871, rep. 1970)
Rev. Green is reported to have ministered at Mt. Zion Church in nearyby East New Market
To date there is no evidence that Rev. Green owned or sold property in the area, leading to speculation that he lived on other land
What we need to know:
What was the relationship between Rev. Green and nearby white property owners, might there have been familial reasons for generosity of white landholders to allow Green to live on property, perhaps the remaining Indian Land property.
See also section Landowners of Indian Creek and Landmarks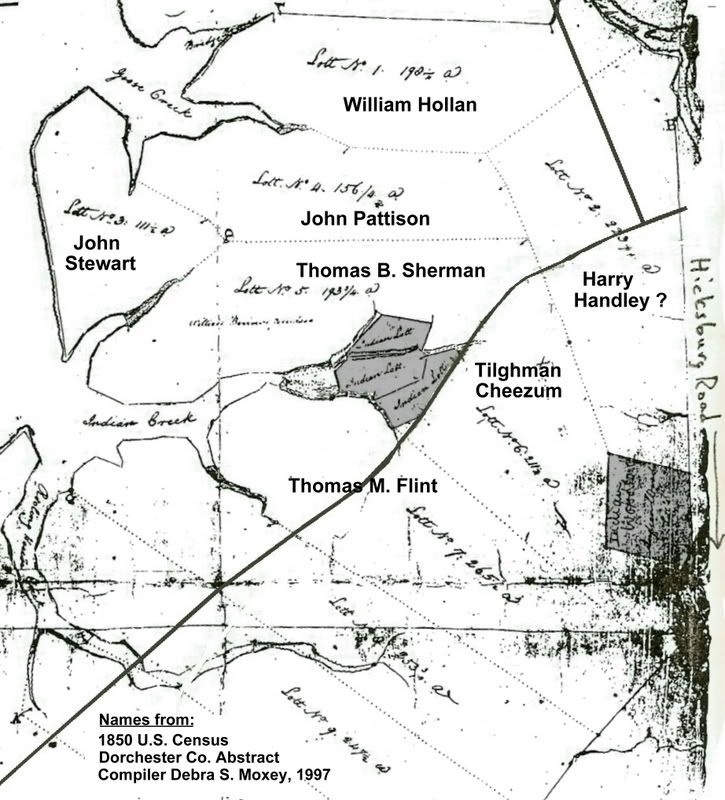 page revision: 5, last edited: 22 Jun 2007 04:29